There are different techniques used to manage milk fever in close-up dry cows. The partial DCAD system is in common use in the UK, with various techniques of administering low-Calcium diets with a high level of anionic salts. A popular approach, originating in Denmark, is to use X-Zelit as a calcium-blocking agent. This approach has been shown to be extremely effective in preventing milk fever.
---
The Calcium Blocking Approach

---
The practice of keeping close-up dry cows outside on tightly grazed (exercise) paddocks is not the best way of preparing the cow for her next lactation. The variables of grass quality, intake, mineral composition, and weather mean that we cannot control the diet. In this situation the X-Zelit® approach is more practical.
X-Zelit® Granular or Compound Pellets (with or without minerals).
Recommended 500 grams Granular 2.5 Kg without minerals 3.0 Kg with minerals.
This product has some remarkable abilities to eliminate milk fever and increase appetite.
Vilofoss have published data in a series of webinars in March 2021 stating that the close-up dry cow's requirement for calcium is only 20 grams per day. This low figure will almost certainly be exceeded in most typical dry cow diets.
Based on sodium aluminium silicate, this synthetic zeolite clay binds calcium and phosphorous very efficiently indeed. This action effectively activates the cow's hormone system so that she is ready to absorb calcium efficiently from the moment of calving.
This should reduce the incidence of milk fever and in a big Danish trial over 22 herds reduced milk fever incidence by 86%. Grass fed dry cows should be buffer fed in any case and this is a great management tool for this type of approach.
The graph below shows that when X-Zelit is used from 15 days before calving, the blood calcium levels at calving are available at normal levels right from the start.
The control animals which were fed on a traditional low calcium diet with a dry cow mineral, were much more prone to sub-clinical milk fever when they calved. The symptoms of sub-clinical milk fever are shown [here].
---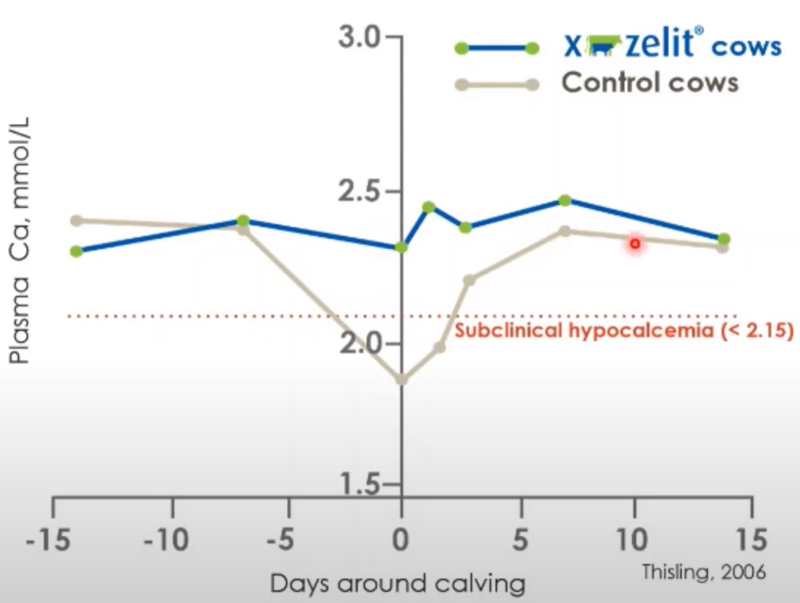 ---
Blood Calcium Levels Around Calving
This also indicates that we should revise our dry cow mineral supplements to reduce the phosphorous inclusion to typically around 3% when we are using calcium blockers.
The latest trial data shows that blood calcium is increased by 20% at calving. This is achieved by the activation of the release of calcium from body reserves and the initial post calving diet.
Current research has also shown that colostrum yield may not be as high as in some DCAD systems but the IGG content is higher.
Note: – If the close-up diet is targeted at 1300grams of metabolisable protein, I am not aware of lower colostrum yields.
Because calcium release has a positive effect on muscle function, we do not see as much incidence of retained placentas. We also see improved rumination and research and trials have shown an increase in dry matter intake of 0.5Kg per day. This is of major significance because the energy gap is reduced and we see improved yields and fertility when intakes increase more rapidly after calving!
Vilofoss have also run trials comparing X-Zelit to BioChlor. The conclusion was that the blood calcium levels post calving were lower when BioChlor was used. The milk solids were also worse. If anyone fancies a comparison, asking the vet to take blood samples for calcium will show the difference if a trail can be set up.
(Use when the choice is not to feed supplemental calcium).
X-Zelit® does not affect trace minerals.
X-Zelit® (Not for use with DCAD systems).
---
More Info
You can find more information about X-Zelit on the official X-Zelit website.